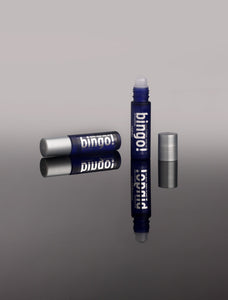 Dremu Bingo Emu Oil Roll On
Bingo World's Fastest and Most Deeply Penetrating Lip Serum Treatment. Made in USA for over 21 years!
Bingo
Perfect touch-up

When and where you need it

For a beautiful more hydrated area around your lips & eyes

Also smooth your  lips & undereyes

Beautiful specially-designed blue cobalt glass roll-on applicator

Stimulates the production of collagen for wrinkle reduction 

New collagen promotes healthier, plumper more beautiful lips   

What is Bingo?

 

BINGO is the world's ONLY special emu oil serum treatment for the lips & eyes...........

Bingo is a unique clarified, further refined version of Dremu Oil Serum and was created especially for your lips & eyes!  With a different applicator. Instead of an eye dropper, Bingo uses a roll on applicator. This makes Bingo a must "on the go" take along for immediate and easy spot applications such as dry lips, bug bites, pimples, sun burn, scratches, abrasions or any small area.